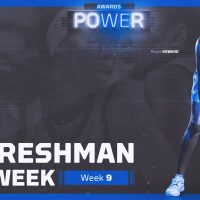 ukathletics.com- Chattanooga native, Bradley Central alum and University of Kentucky freshman guard Rhyne Howard has earned her fifth Southeastern Conference Freshman of the Week honor off a total 31 points with 11 assists, nine rebounds, seven steals and three blocks in UK's first two league games last week.
Howard's five freshman of the week honors ranks second only to Missouri's Sophie Cunningham who won a SEC record six freshman of the week honors in 2015-16.
Howard leads Kentucky this season in scoring and rebounding with 17.4 points and 7.0 rebounds per game. The guard ranks second on the team in assists with 45, steals with 38 and blocks with 16. Howard has scored 20 or more points five times this season, including a season-best 29 against Southern where she tied a school record with seven 3-pointers made.