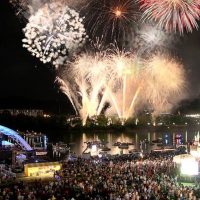 The Riverbend Festival announced some changes this year.  Here's what we know.  Riverbend will be shortened from 9 days to 5 days, as well as moving from early June to late May.  Riverbend 2019 will start Wednesday May 29th and wrap up June 1st. Chip Baker, Executive Director of Friends of the Festival, said the shortening of the days will help focus on the fan experience allowing them to focus on getting bigger acts for the stages.  The new dates will also avoid competition from other events like Bonnaroo and CMA Fest.
Baker also announced that Knoxville based AC Entertainment will be in charge of booking the acts for the Coca-Cola stage.  AC Entertainment have been booking for the Memorial Auditorium, Walker theatre and Tivoli recently as well as the producers of Bonnaroo in Manchester, TN and the Moon River Festival that took place here in Chattanooga last summer.  AC Entertainment also works with Songbirds and the Signal with booking acts at those local venues. Friends of the Festival plan to spend more on acts this year than years past.
Riverbend will also do away with the token system and be a cashless event.  They will have wristbands that can be used for food and drink purchases.  The wristbands will RFID chips that can be used to track spending habits. Riverbend bands will go on sale Monday February 4th and will start at $60 and increase as the festival draws near.  Children 6 and under will still be free.
Other notable changes are the elimination of Faith and Family Night as well as the Bessie Smith Strut.  There are reports that Friends of the Festival will help with a musical event the Bessie Smith Hall will hold in the fall but not sure how much they will be involved nor if it is meant to replace the Bessie Smith Strut.
Riverbend officials also announced this year will have an adult lounge called the Whiskey River Lounge and a ferris wheel.
Riverbend will announce all acts by the middle of February. For more information check out their website at www.riverbendfestival.com.