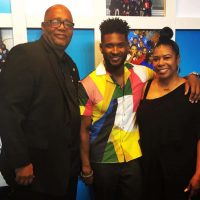 Power 94 was invited to be a surprise guest for Usher's New Look 20th Anniversary VIP Event in Atlanta, Georgia.

"Usher's New Look is a non-profit organization that transforms the lives of the under-resourced youth through comprehensive programming which develops passion-driven, global leaders from middle school through college. We are determined to enable young people to discover their spark, graduate from high school, achieve higher education and training, build careers, and be of service to their communities. Our work helps the youth future-proof their lives from negative statistics to become leaders who change their world." – www.ushernewlook.org

Usher entered the event and walked straight to the Power 94 booth to hug Magic and Keith.  Usher ushered them straight down the red carpet to the VIP picture area and took the first pictures of the night with them.  Usher spent the night greeting each guest and taking photos with everyone in the VIP area. The event was full of celebrities, people who Usher has helped through New Look, media, family and friends.

Congratulations to Usher, New Look, and for 20 years of giving back!