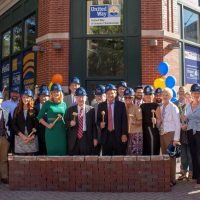 Source: United Way Press Release: CHATTANOOGA, Tenn. (August 29, 2019)– Today, United Way of Greater Chattanooga, donors and elected officials commissioned the new Hub for Social Innovation on the first floor of the United Way office in downtown Chattanooga. The Hub will serve as a physical working and meeting space for a network of people and processes that will drive innovation and collaboration among diverse sectors. Hub measures will move the needle on key indicators of education, health and wellbeing and family stability, create a culture shift in collaborative and collective impact, and increase the effectiveness of the social sector.
"This space is meant to be a gift to the problem-solvers in our community – those who care deeply about Greater Chattanooga and want to roll up their sleeves, dig in and work with diverse people from various sectors in our community toward solutions that create collective impact. To those who are looking at the realities of today and reimagining how to work together to meet tomorrow's needs." Commented Lesley Scearce, CEO & President of United Way of Greater Chattanooga
The new community space, located on the first floor of United Way of Greater Chattanooga's downtown office, was officially unveiled as the John P. Guerry Hub for Social Innovation. This is intended as a tribute to Mr. Guerry's decades of leadership to United Way, dedication to community, and to his work as a longtime philanthropist and advocate. UWGC would also like to express their gratitude to the following current donors who generously contributed to the Hub: The Guerry Family and Hamico Foundation, Maclellan Foundation, Unum, Smart Furniture, Shaw, Coca-Cola, Ms. Helen Pregulman and the Decosimo Family.
"Over the years, the United Way has done so much for so many people. For me it is an honor to be associated with United Way," stated John P. Guerry. "Willie Six, legendary football trainer for the University of the South, was once asked 'what's the best sport's team you've ever seen?' He responded with, 'the best team I've ever seen is the one that will start next year!' And so, I say today what's the best year in United Way history? It's the one that's coming up!"
The goal of The Hub is to align community leaders, nonprofits and companies with each other and with the resources necessary to address our community's most critical issues. United Way anticipates the Hub will open for use in the first quarter of 2020. Special thanks to Bridge Innovate for providing coaching and guidance on innovation strategies and framework for maximizing the Hub's engagement and outcomes.