Ki Ki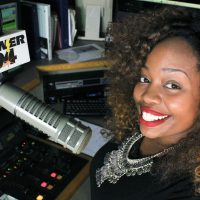 As a native of Chattanooga's "Southside" community, Kiki's mother wanted to make sure she wasn't going to become another statistic coming from a single parent home not making it out the "ghetto."  Her mother kept her in programs and extracurricular activities to keep her grounded and out of trouble.
Kiki always made music her outlet from singing in choir, performing in school functions, and listening to her mother's old school Motown records she always knew her love for music and speech would be her calling.  She's an alumni of the former 21st Century Academy & a graduate of Chattanooga State Technical College with a degree in Media Technology. In the spring of 2008 she interned for Power 94 and never left or looked back.  The internship was the beginning of something new, from working various shows, engineering, spending hours in production/promotion and reading voice overs for commercial spots, Kiki knew she had made the right career choice.
Known mostly for her keen sense of style and various hair endeavors this fun, energetic, p.y.t (pretty young thing) keeps the week nights moving right along with the hottest new school mixed with a little old school hip hop and R & B.