Magic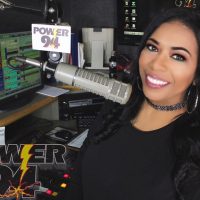 Fate brought this radio veteran to her true calling. While attending the Upward Bound Program at UTC the summer after graduating from Chattanooga High School (with no decision yet on a major), she was given the choice between sewing and radio interest groups because the dance group was full. She definitely wasn't joining the sewing group so reluctantly, so she accepted radio. Under the direction of Reverend Kenneth Scaife, she quickly found that she had a true love for this field and communications became her major.
 After attending Chattanooga State, she landed a part-time slot at WJTT. "I was so thrilled that I ran door to door in my neighborhood to tell everybody to listen! When I worked at the college station I knew that it was a small listening audience including my grandmother who I forced to listen, but I was just happy to be on the radio! I love people and I love being able to touch someone or help make somebody's day. It's surprising what a song or the right words can do."
Magic has come full circle in her radio career and holds the title of Music Director as well as assistant to Program Director Keith Landecker and also helps with the guidance of new announcers. She has been nominated for several awards and was awarded Music Director of the Year by Billboard Magazine, FM Personality of the Year by the National Black Programmers Coalition, and is also the recipient of the Cullen Dubose, III award.
Magic is a Chattanooga native and mother of one son, Anthony (T Especially), and believes that family is important. "My family means everything to me. Here at Power 94, I have my second family and we live by the same rules as my biological family. We love each other and we are here for each other in every way. What I do doesn't feel like work."