Weekend Warriors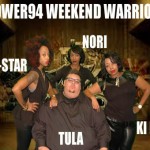 NORI NORI
A native of Chattanooga, Nori knew that she wanted to have a great impact in her city. A graduate from Ooltewah high school she went on to receive her Associates of Arts degree in broadcasting from Chattanooga State. She's also alum of the University of Phoenix with a B.A. in Mass Communications and currently pursuing her Masters in Administrative Justice and Securities. Through radio she has been afforded many great opportunities and a lot of favor. In March of 2011 she founded "Nori Cares" a not-for-profit group that will help the people of Chattanooga give back to each other. She is excited about what the future holds and knows that it's all about what God has in store for her life. It's been almost 9 years since Nori started her radio journey and she's on a non-stop stop road to achieving many more broadcasting goals. To God be the Glory!
Big Tula's

charming personality and humor has not only won the hearts of the ladies in Chattanooga but also the respect of the people in the city.  Tula's love for music started as an embryo, as his pregnant mother managed a music store in the Broward Mall in Fort Lauderdale, Florida while awaiting the birth of her first son.
Tula's love for music brought him to Power 94 as an intern from UTC.  Starting off hosting parties and clubs Tula became comfortable on the mic and from there he worked his way on air as a part time on air personality.
Tula is a Samoan and native of South Florida but while he may not be originally from Chattanooga, he represents Chattanooga to the fullest and calls the Scenic City his home.
When Tula was a teenager working with his unlce he said he wanted to be a radio DJ, but stated that he didn't think he could because people always told him that he talked too fast.  His uncle simply stated, "yes you can, you can be anything."  Now Tula has been on the radio for over 5 years and loving every second of it.
When not on the radio, Tula can be found working with the youth of the city trying to help make a positive impact on as many young people as possible.

Kenyada "Kiki" Williams is a native of Chattanooga's "Southside" community, Kiki's mother wanted to make sure she wasn't going to become another statistic coming from a single parent home not making it out the "ghetto." Her mother kept her in programs and extracurricular activities to keep her grounded and out of trouble.
Kiki always made music her outlet from singing in choir, performing in school functions, and listening to her mother's old school Motown records she always knew her love for music and speech would be her calling. She's an alumni of the former 21st Century Academy & a graduate of Chattanooga State Technical College with a degree in Media Technology. In the spring of 2008 she interned for Power 94 and never left or looked back. The internship was the beginning of something new, from working various shows, engineering, spending hours in production/promotion and reading voiceovers for commercial spots, Kiki knew she had made the right career choice.
Known mostly for her keen sense of style and various hair endeavors this fun, energetic, p.y.t (pretty young thing) keeps the weekend moving right along with the hottest new school mixed with a little old school hip hop and R & B. Ke is still a work in progress and is learning the ropes but with the help of her peers and new found family she's determined to make a mark in her city! Get to know Kiki a little more by tuning into her weekend show from 6-9pm!

J-Star is the newest member of the Power94 family.  A native Chattanoogan; she started at Power 94 as an intern as communications student from Chattanooga State College where she studied media technology. A devoted mother of 1; J-Star is known across the South and even internationally in Tanzania East Africa as a top DJ mixologist.  When not on-air or on the road; J-star spend her free time as a Facebook fashion model.  Her motto:  I have God on my side.